We have a number of ongoing projects to suit a wide variety of interests and experience. You will be surprised how much fun you will have meeting new people and making a difference in Bellingham. To volunteer on a project, email us at  volunteer@sustainablebellingham.org.
These are always plenty of fun and occur on a weekly basis. An announcement goes out in the weekly newsletter (on Sunday) announcing the upcoming garden party on Tuesday. We arrive at a different yard every week to garden –raised beds, planting, mulching, etc. Fellow gardeners work for the first ninety minutes, while others prepare a meal in the kitchen. The second ninety minutes is spent sharing a meal, socializing and meeting new friends.
Want to help? Hosts and weekly volunteers are needed. More information available here. Help is also needed with organization and publicizing – approximately one hour per week.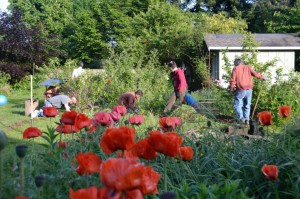 Farmers' Market Bike Repair
Weekly at the Farmers Market throughout the spring and summer. These are also located at different events and locations throughout the year, assisting the homeless/transient community of Bellingham.
Want to help? Short- or long-term commitments, and some knowledge of bicycles is helpful, or the desire to learn. You'll probably get some grease under your fingernails too. Someone will need to manage the schedule in hope that we generate enough support to move forward. One Saturday per month is requested for volunteers, although the more you can work, the better. This is a fun time. We anticipate beginning this in May of 2013. This takes about three hours on a Saturday.
Yoga in the Parks
Every Tuesday from July through September Kaleidoscope Community Yoga and Sustainable Bellingham host a yoga class at a different Bellingham Park. After yoga, we share dishes that we've brought, much of these coming from our gardens.
Want to help? Contact Kaleidoscope Community Yoga to get involved.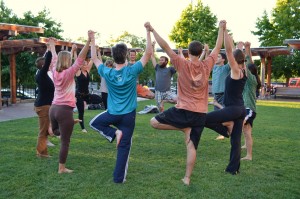 Urban Garden Bicycle Tour
Take a few hours one day in the spring or fall and visit some gardens in a selected neighborhood of Bellingham, all by bicycle.
Want to help? Assistance with organizing this event, locating gardens, publicizing are all needed.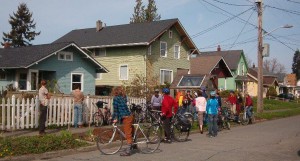 Annual Seed Swap
This is our yearly January event where community members can come to get or share seeds. Sponsors donate seeds and starts, as well as snacks and beverages. We have also hosted a seed saving talk by Celt Shira. This event is supported entirely by you and our wonderful sponsors. The Seed Swap has thrived for 5 years, and is one of Sustainable Bellingham's biggest events of the year. Thank you for keeping this going year after year.
Want to help? This events requires lots of planning, promotions and set-up. Contact us if you want to get involved.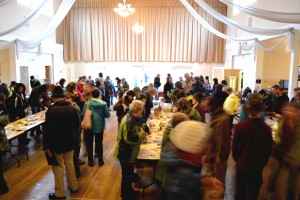 Other Projects, Past and Future
Veterans for Peace | Orchard Mason Bee Workshop | Worm Containers Workshop | Alternative Energy Fueling Station | Summer Concert – Membership Drive/Fundraiser | Community Solar

Other ways to help Sustainable Bellingham
Web Designer & Administrator – Help make this site better. Assist current web guy in maintaining the site and making any changes to it regarding content, look & feel, analytics, etc.  We are currently using WordPress. This can evolve into a long-term role for the right person. Expected time requirements are 1-2 hours per week.
Writers – Blog here, write material for local publications, copy edit other material, produce literature (such as pamphlets) to distribute at events. Desktop publishing ability would be great too.
Students and Others – If you have an idea that is moral, legal and in line with our mission statement, feel free to contact us. We are a small nimble organization that works for change through effective action. Be part of the change and work with us and fulfill your requirements for volunteering or interning.